There are so many ways to wear hair extensions, 4 part Vixen sew in will be a great choice if you want to part your hair up in a ponytail, part it down the middle, part it across, and even a crown braid, all without revealing a single track.
1.First, separate your hair into 4 sections.
2.Leave out the hair along the perimeter around your head, and leave out about 1 inch of the cross sections of your scalp.
3.The four sections will be braided into beehive patterns. Braided the leave out part as well.
4.Put on the wig net.
5. Sew around each section of 4 part in wig net, make sure you not stitching on top of the braid (leave out).
6. Cut off all additional net we don't need, cut around each section.
7. Then, you have four sections covered with a hair net.
8. Sew the wefts in the 4 part sections.
9. Take off the leave out braids.
10. Finally, use flat iron to make your hair close to the wefts.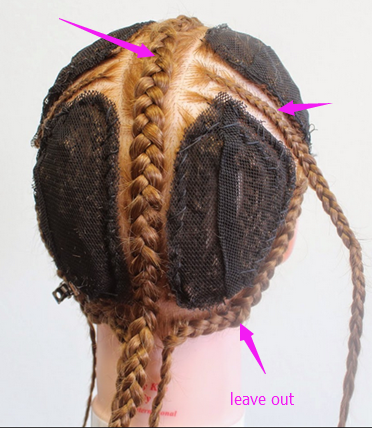 Please take a look at the detailed picture below.